The Pork Shack is a theme based event caterer - normally you'd find us at food festivals and other public private events.
COVID19 Takeaway Service
We've decided to adapt what we do and offer Filipino Street Food for home delivery in Thame and the surrounding villages (within 5 miles).
Click for our Takeaway Menu
Street Food Catering
When you book us all you need to do is tell us where we're pitching and we do the rest!
Contact us now!
Our Takeaway
Dishes

Your safety is our priority so we will be enforcing extra strict hygiene and social distancing rules.
Main Dishes
Chicken Adobo
Chicken thigh dish with sauce of soy, cane vinegar, garlic, onion, black pepper and bay leaves.
£7.00
Gluten Free, Nut Free & Dairy Free
Chicken Rendang
Chicken thighs. Spicy coconut-based curry. Fresh Ginger, Lemongrass, Kafir lime & Chilli.
£8.00
Gluten Free, Nut Free & Dairy Free
Pork Hamonado
Confit pork belly in a Filipino style sweet and sour sauce with pineapple.
£8.00
Gluten Free, Nut Free & Dairy Free
Char Siu Belly Pork
Confit pork belly in the infamous cantonese glaze: Hoisin, five-spice, sriracha and honey.
£8.00
Gluten Free, Nut Free & Dairy Free
Jackfruit Paksiw
Young jackfruit slow cooked with soy, cane vinegar, bay leaves, black pepper and chickpeas.
£6.00
Vegan, Gluten Free, Nut Free & Dairy Free
Veggie Kalderetta
Vegan chicken kalderetta sauce made with turmeric, ginger, onions, peppers and coconut milk.
£7.00
Vegan, Gluten Free, Nut Free & Dairy Free
Side Dishes
Plain Rice
Fluffy, long-grain rice.
£2.50
Vegan, Gluten Free, Nut Free & Dairy Free
Coconut Rice
Flavoured rice with dried coconut.
£3.00
Vegan, Gluten Free, Nut Free & Dairy Free
Crispy Lumpia
Fried vegetable spring rolls (4x) with sweet and sour dip.
£4.00
Vegan, Nut Free & Dairy Free
Pancit Noodles
Filipino stir-fried vegetable noodles.
£4.00
Vegan, Nut Free & Dairy Free
Pickled Slaw
Lightly pickled vegetable salad.
£2.50
Vegan, Gluten Free, Nut Free & Dairy Free
Drinks

We also offer accompanying drinks (cans) for £1 each.
Options include Coca Cola, Coca Cola Zero, Orange Tango Zero, Pepsi Max Cherry and 7 Up Zero.
Important

Available every Friday & Saturday 5:00 - 9:00 pm. We are no longer open on Sundays.

To make your order please call 07401 305 188 between 5-9pm or pre-order via text message.
We will then send you a text message with a payment link for you to make your payment.
There is also a £2.50 delivery charge for areas outside Thame.
WHO WE ARE
Dan and Kayleigh made the cliché move to take a year out and travel South East Asia and eat their way through as many different countries they could afford. The trip was "make it up as we go along" travel plan. They decided to take a detour to the Philippines to visit Kayleigh's Lola (Grandma) for her 80th birthday party, this was where they fell in love with Filipino food and the idea of the Pork Shack was born!

Both Dan and Kayleigh have worked in the events sector but on different platforms which makes the perfect team.

Dan is a fully trained chef and has been working in the industry for over 10 years; he has worked in restaurants, event catering, he was a personal chef and even ran his own novelty cake business.

Kayleigh has worked in events since leaving University, her experience relies heavily in event production, working on events like the London Olympics and music festivals.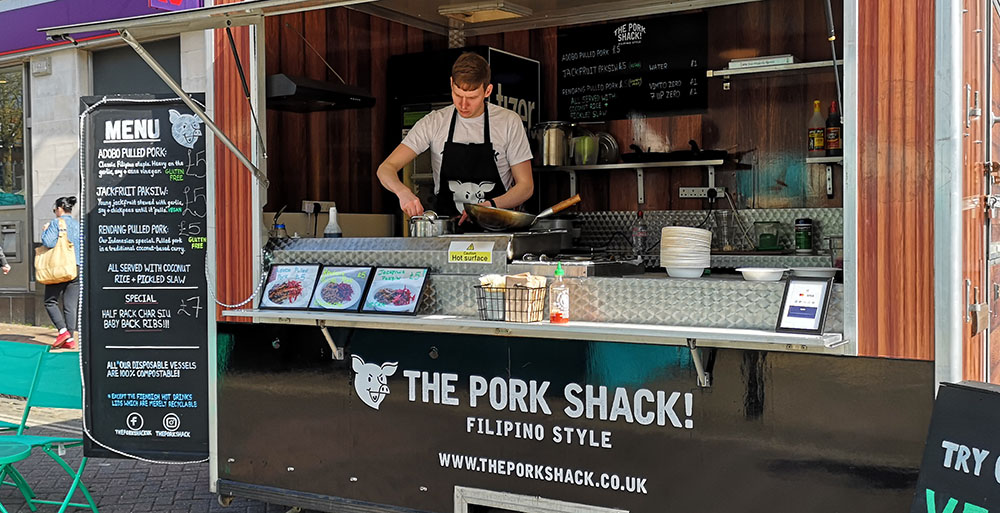 FILIPINO FUSION STREET FOOD
We take a modern spin on traditional Filipino dishes by reconstructing popular Filipino family favourites and turning them into street food feasts. We offer vegan alternatives; it's usually pulled jackfruit which has a very similar texture to pulled pork. We ensure we always offer gluten free and dairy free on our menus. We also use gluten free soy sauce which is used in most of our dishes.

We only use good quality fresh ingredients and we aim to use local suppliers where we can, independent and great quality. We only use British Free-range pork, which is from our local butcher. We make all our own curry pastes, spice blends and sauces. All our crockery, cups, lids, cutlery and napkins are biodegradable which means they are 100% compostable.

Over the past few years the UK's street food scene has boomed! With so many street food pop-up events appearing all over the UK why not add a bit of street food to your event.

The Pork Shack can offer Filipino Food for any occasion such as weddings, birthdays or even just fancy throwing a party for the hell of it, we can cater to your requirements. You can choose from our menu or if there is anything specific you require we will aim to work to your needs, don't forget we offer vegan options, gluten free and dairy free.
Our
Reviews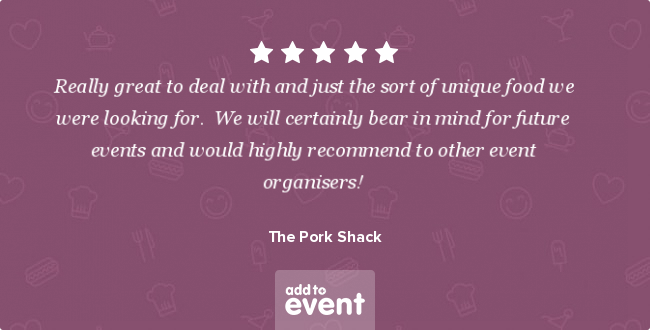 Great working with and unique flavours! 5 Stars Really great to deal with and just the sort of unique food we were looking for. We will certainly bear in mind for future events and would highly recommend to other event organisers!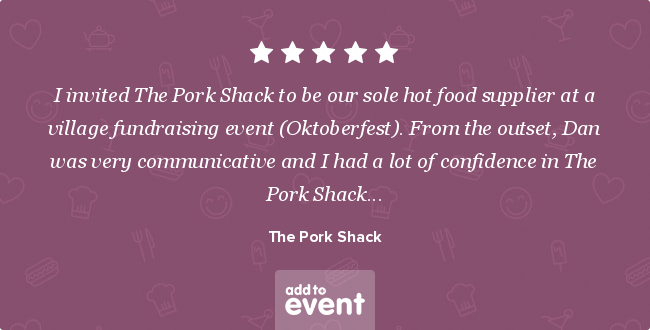 Would hire them again any day! 5 Stars I invited The Pork Shack to be our sole hot food supplier at a village fundraising event (Oktoberfest). From the outset, Dan was very communicative and I had a lot of confidence in The Pork Shack leading up to the event. They showed up and were ready to serve as scheduled. Once people started buying food from The Pork Shack, they had a steady queue as the smell of...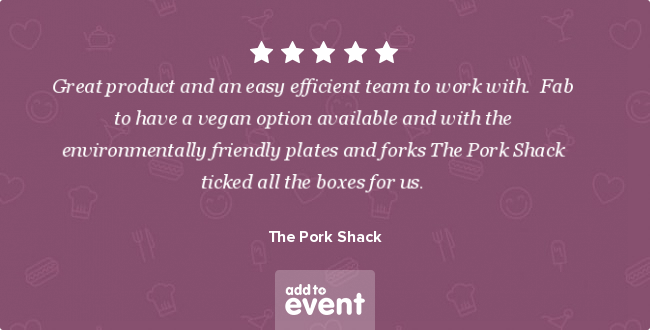 Really easy to do business with. 5 Stars Great product and an easy efficient team to work with. Fab to have a vegan option available and with the environmentally friendly plates and forks The Pork Shack ticked all the boxes for us.
Really great pair, both are very professional and hard working. We really loved their Adobo Pork and it was the perfect treat for my husband's 30th birthday!
100%
Environmentally Friendly
Healthy
and Vegan-friendly
100%
Biodegrable Cups & Cultery
Come find us - keep an eye on Facebook Page for the latest info!
Based in Oxfordshire, our food trailer will be travelling around the country.
Email: theporkshackuk@gmail.com